Bon Jovi Welcomes Fans Into The Circle with 2010-2011 World Tour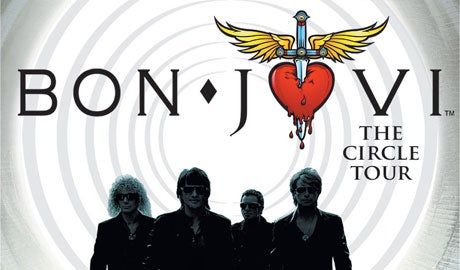 Oct

21

, 2009
Bon Jovi Welcomes Fans Into The Circle with 2010-2011 World Tour
With New Jersey's New Meadowlands Stadium as their backdrop, GRAMMY Award-winning hometown heroes Bon Jovi performed at a concert and media event today that announced "The Circle World Tour." The band is preparing to spend nearly two years spanning the globe, including the kickoff event of New Meadowlands Stadium, scheduled for May 26 and 27, 2010.

The New Meadowlands concerts will go on sale beginning at 10am on Saturday, October 31st, while additional tour dates go on sale beginning November 9th. Fans should continue to log on to www.bonjovi.com for the most up to date concert and ticket on-sale information.

The band's Jon Bon Jovi, Richie Sambora, David Bryan and Tico Torres performed an exclusive set for a select group of 5,000 lucky contest winners, fan club members, and on-site construction workers currently at work building the New Meadowlands Stadium. Bon Jovi was also joined by New York Jets Chairman & CEO Woody Johnson, New York Giants President & CEO, John Mara, as well as President & CEO of the New Meadowlands Stadium Company, Mark Lamping. New York's powerhouse radio station WPLJ DJ, Race Taylor, served as emcee. Live footage of the event is available at www.BonJovi.com. An embeddable player is available at http://www.iclips.net/widgets/jbj/jbj_embed.html.

Beginning with the band's North American tour launch on February 19th, 2010 in Seattle, WA, Bon Jovi will spend much of the next two years on the road, performing 135 shows in 30 countries. Following in the footsteps of their hugely successful "Lost Highway Tour, Bon Jovi will draw fans around the world into The Circle, with a residency at London's O2 Arena in June 2010 before returning to America in the fall for an additional nationwide leg, and further dates well into 2011.
"It is often said that the third time is a charm, and in the case of the Bon Jovi/AEG Live relationship, this axiom certainly holds," said Randy Phillips, President and CEO of AEG Live. "AEG Live has been honored to serve as the band's worldwide tour promoters, from the 2005 'Have A Nice Day' tour to the highest grossing tour of 2008, 'Lost Highway,' to the upcoming 'The Circle World Tour' in 2010. Bon Jovi is one of the most prolific and exciting live rock bands in the world."
Having sold more than 120 million albums and performed more than 2,600 concerts in over 50 countries for more than 34 million fans, Bon Jovi is at their best when they're on the move, and that's truer now than ever before. The November 10th, 2009 release of Bon Jovi's new album, The Circle, and the band's subsequent world tour, provides a powerful reassertion of Bon Jovi's commitment to the hard-hitting rock & roll that has been the band's indelible signature since it began more than 26 years ago.