Mar 4, 2020
Ultimate Guide to the 2020 Big 12 Men's Basketball Championship
CHAMPIONSHIP UPDATE
Alert: Based on the latest developments and the continued spread of the coronavirus (COVID-19), the Big 12 Conference today announced the cancellation of the remainder of the 2020 Men's Basketball Championship in Kansas City.
Guests who purchased tickets with a credit card through AXS.com, SprintCenter.com, in person at Price Chopper Box Office at Sprint Center, or charge-by-phone at 888.929.7849, will receive automatic refunds to the original card used for purchase for the games impacted by today's announcement starting on Thursday, March 12.
Tickets purchased with cash directly at Price Chopper Box Office at Sprint Center for Sessions 2-5 that have been impacted by today's announcement may be returned for a refund during business hours, Monday-Friday between 10 a.m.- 6 p.m.
WHAT IT IS
The 2020 Big 12 Conference Men's Basketball Championship welcomes ten teams to Sprint Center March 11-14 featuring a single-elimination tournament of four rounds, with the top six seeds earning byes in the first round. The winner of the 2020 Big 12 Championship is the official conference champion and receives an automatic bid to the NCAA DI Men's Basketball Championship tournament.
WHAT TO EXPECT
Wednesday, March 11
SESSION I
6 p.m. Oklahoma State vs Iowa State
8 p.m. TCU vs Kansas State
Thursday, March 12
SESSION II
11:30 a.m. Texas vs Texas Tech
1:30 p.m. Kansas vs Oklahoma State

SESSION III
6 p.m. Baylor vs Game 2 Winner
8 p.m. Oklahoma vs West Virginia
Friday, March 13
SESSSION IV
6 p.m. Semifinals Game 1
8 p.m. Semifinals Game 2
Saturday, March 14
SESSION V
5 p.m. Championship
*All doors scheduled to open approximately sixty minutes show time.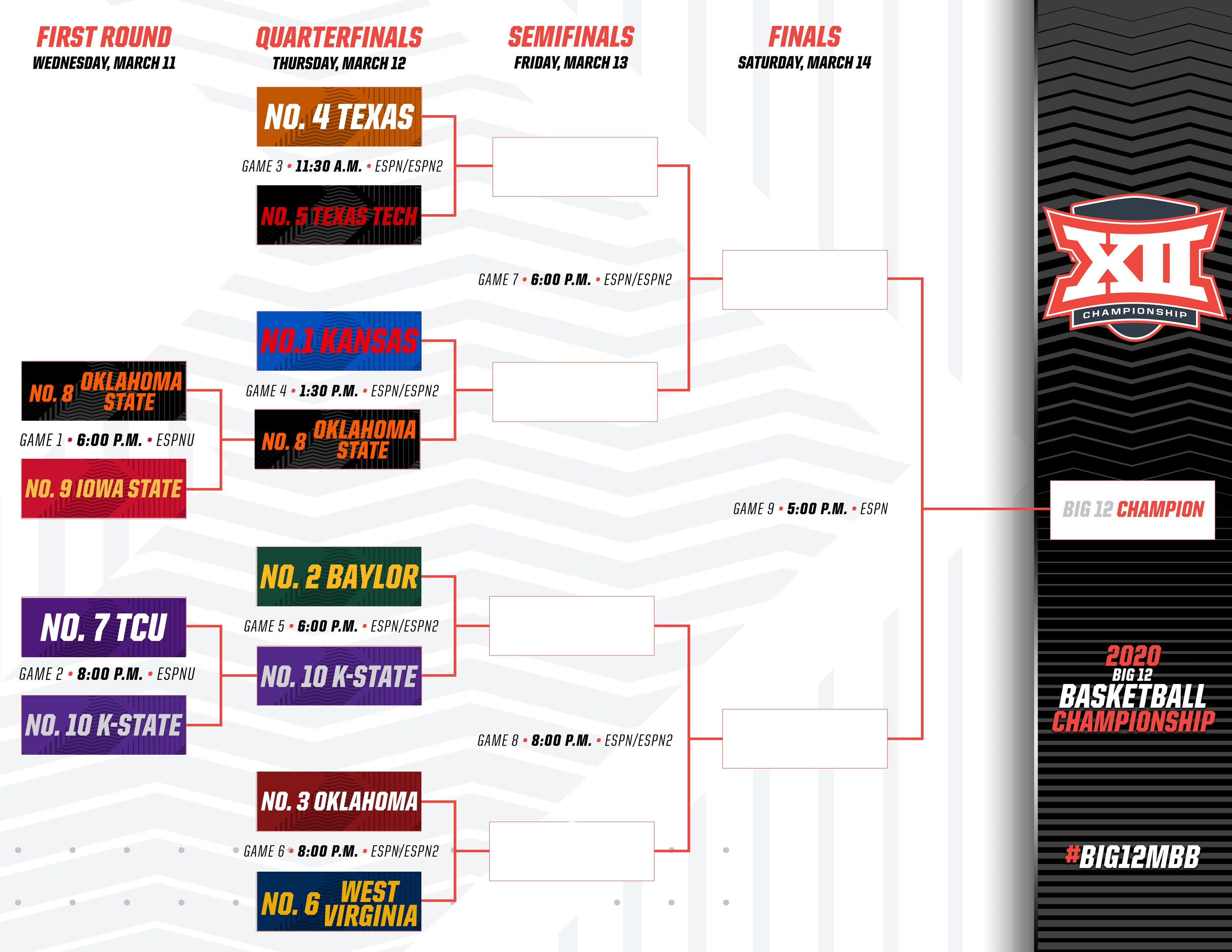 WHAT TO KNOW
FOOD & BEVERAGE
MAIN & UPPER CONCOURSE CONCESSIONS + KC FLAVORED CHEF-CRAFTED CHAMPIONSHIP DISHES

Sec. 107 - Boulevard Ginger Lemon Radler
Sec. 108 - Bangers & Mash, Fish & Chips
Sec. 113 - Down and Gritty Bowl, KC Loose Meat Sandwich
Sec. 116 - KC Carvey Cart (BBQ Pork Loin Sandwich, Brazilian Barbequed Sirloin Sandwich, Italian Sausage Sandwich, Pig Roast Pulled Pork Sandwich, Smoked Chicken Thigh Sandwich)
Sec. 119 - KC Cheese Steak, West Bottom Burger
Sec. 122 - Blue Moon Light Sky Citrus Wheat, St. Archer Gold
EXPRESS LANES
Guests without bags may use EXPRESS LANES located at Grand Blvd. and Oak St. entrances. Standard screening procedures remain in place to ensure fan safety and security. Fans using EXPRESS LANES will enjoy a reduced wait time.
PARKING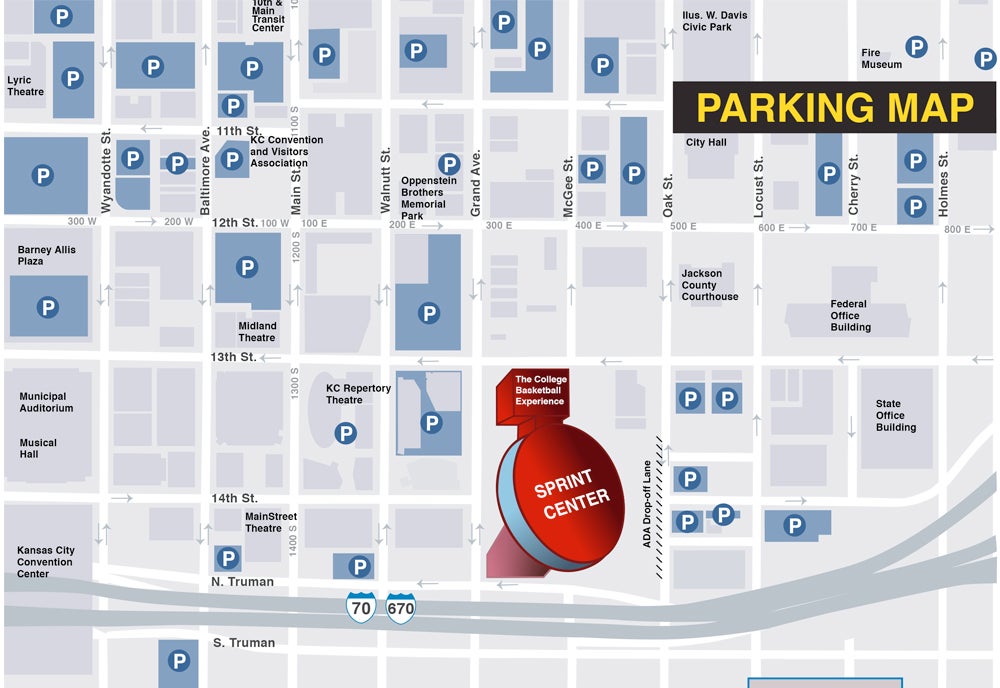 PROHIBITED ITEMS
The following items are not allowed in Sprint Center: bottles, cans, outside food or beverages, weapons or firearms, coolers or containers, backpacks of any size, bags larger than 12x6x12, iPads or other similar tablet devices larger than 7", fireworks, illegal substances, Frisbees, beach balls, spurs, artificial noisemakers, balloons, laptop computers and laser pointers.
Sprint Center does not permit guns, knives, pocket knives, laser pens, brass knuckles, wallet chains, spikes or weapons of any kind including concealed permits. All patrons will be screened by walk-through metal detectors and/or security hand-held wands. All bags will be checked. Umbrellas permitted except those with spike-like points and should be placed under seats. All weapons must be returned to your vehicle as Sprint Center does not check in weapons.
Sprint Center and the artist/event reserve the right to add prohibited items to the list above as well as limit the size of hand-held signage. Signage deemed to block the view of other guests will be removed.